CAPSTONE Mission is acknowledged for cutting-edge efforts of recent and ongoing technical innovation for Small Satellites
Have you heard? We won Small Satellite Mission of the Year! It's been a long journey from concept to launch, and we still have quite a journey ahead of us as we continue to the Moon, but CAPSTONE could not have gone so far without the support of our community.
Thank you to our team of engineers back home who have worked so hard and been so resilient from day one of this mission all the way to today keeping an eye on the spacecraft as we approach apogee. Thank you to our partners who provided solutions and innovations to keep the mission moving forward through every hurdle and roadblock that came our way. Thank you to the Small Satellite Technical Committee and NASA for our nomination and consideration this year.
And most of all, thank YOU – everyone watching our mission launch with bated breath, cheering for us through difficulties and recovery, and voting for us to bring home this award.
We hope to keep you all excited for what's next as we prepare for apogee at the end of August and arrive at the Moon on November 13th, with plenty of milestones along the way. Until then, stay tuned!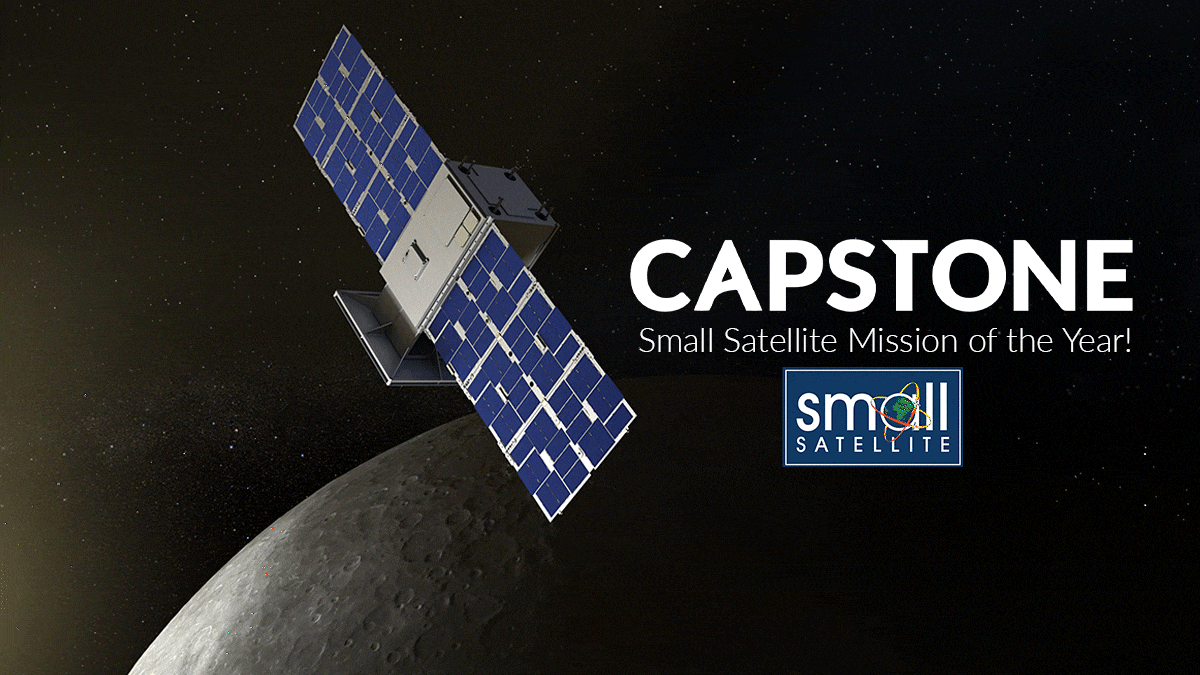 Advanced Space is thrilled to receive the Mission of the Year award today for their CAPSTONE mission. The Cislunar Autonomous Positioning System Technology Operations and Navigation Experiment, CAPSTONE, led by Advanced Space was launched 7 weeks ago to perform its historic pathfinding mission to the Moon for NASA. The award was informed by the public and selected by the American Institute of Aeronautics and Astronautics Small Spacecraft Technical Committee at the Small Satellite Conference among a list of highly technical small satellites. Some of the criteria for the award were to demonstrate a significant improvement in the capability of small satellites, spacecraft structural design, scientific instrument development, and communications capabilities, all characteristics of the microwave-sized 12U CubeSat designed and built by Terran Orbital.
Chris Baker, Small Spacecraft Technology program executive of NASA's Space Technology Mission Directorate (STMD) received the award on stage at the 36th Annual Small Satellite Conference in Utah. He was joined on stage by key members of the CAPSTONE Mission team – principal investigator and CEO of Advanced Space Bradley Cheetham, chief engineer of Advanced Space and mission program manager, Tom Gardner, NASA Ames STMD Deputy Program Manager Elwood Agasid, Keith Thompson of Terran Orbital, Tomas Svitek of Stellar Exploration, and Richard French of Rocket Lab. CAPSTONE uses a monopropellant hydrazine-fueled propulsion system that was developed and implemented by Stellar Exploration Inc. and was launched on an Electron by Rocket Lab.
"Thank you to NASA Ames for the nomination, to the SmallSat committee for the recognition, and to our resilient Advanced Space team, and to all our mission partners. We have come a long way and still have a way to go but are on a trajectory to arrive at the Moon on November 13th and we continue to make history," said Bradley Cheetham, Advanced Space's chief executive officer. "Congratulations to all the nominees for the award, we are honored to be recognized among such competition. It is tremendous to see the breadth of technical prowess in the category."
CAPSTONE is 55 pounds and will help inform future operations in cislunar space and for the future lunar space station in the near rectilinear halo orbit (NRHO), the intended orbit for the Gateway as part of the Artemis program. The spacecraft also will demonstrate the Cislunar Autonomous Positioning System (CAPS) technology that will enable spacecraft-to-spacecraft navigation services reducing reliance on Earth-based ground systems. CAPSTONE's CubeSat creation and operations success stems from the collaboration of many small businesses transforming the future of space exploration.